Porcelain Veneers
Affordable Porcelain Dental Veneers in Encino, CA
---
Veneers
Veneers are tooth-colored thin shells of porcelain that are attached to the front surface of teeth to improve their look. Veneers cover gaps, chips, stains, and other cosmetic imperfections on your teeth.
The Facts About Dental Veneers
Veneers are thin, custom-made moldings that cover the fronts of unsightly teeth. They are crafted from tooth-colored, high tech materials, often porcelain, for a natural looking bright smile. After the tooth is reshaped, the veneer is permanently bonded, held in place by the latest bonding resins that adhere the back of the veneer to the front of the tooth. The finished result is extremely strong and durable.
Porcelain Veneer Benefits
Veneers are normally stain resistant, strong and durable. Veneers reflect light similar to normal teeth and are made with tooth-colored porcelain or resin. Resin are thinner than porcelain and requires less amount of your tooth in order to attach. Veneers resist stains better than resin.
Problems Veneers can solve:
Gaps, Misaligned Teeth: Large gaps are closed and new smile is created with gum re-contouring and porcelain veneers.
Chipped and Worn Teeth: Chipped and Worn teeth can be straightened, and lengthened with porcelain veneers.
Stains and Discoloration: Discolored, Stained Teeth can be straightened with bonded porcelain veneers.
Broken teeth: New smile is created with gingival re-contouring and porcelain veneers.
What to expect when getting veneers:
Preparation
Getting veneer usually requires three trips to the dentist. Your first appointment is generally consultation to find out if veneers is the right choice for you. You can tell your dentist the result you are trying to achieve. Dr. Zadeh will then make an assessment if veneers are right for you and she will discuss the procedure and its limits. She will then proceed with make impressions of your mouth and teeth to create a model of your veneers.
Preparation Procedure
The second and third appointments are two to make and apply the veneers. The bonding resins and porcelain veneers are applied. When the veneers are in place, an plasma light is used to harden the adhesive.
What you need to know after getting veneers:
How to care and maintain your veneers
Veneers can last 10 – 15 years (or longer) if you take care of them properly.
Floss every day
Avoid foods that stain (tobacco, coffee, and tea)
Brush twice daily with a fluoride toothpaste
Avoid chewing on ice, popcorn kernels, or hard candy
Wear a mouth-guard at night if you grind your teeth
Schedule regular dental cleanings and checkups
To learn more about how veneers can help, please call Encino Dentistry in Encino, CA today or book an appointment with Dr. Zadeh.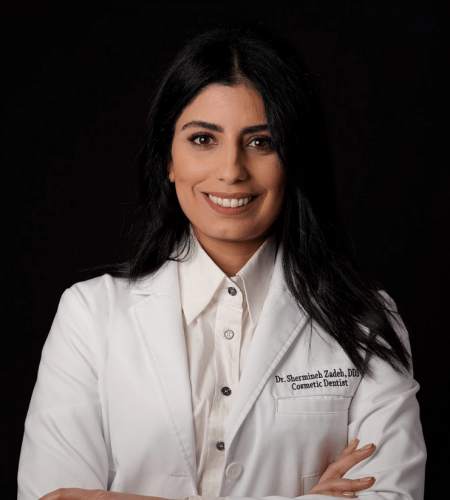 Your trusted cosmetic & general dentist in Encino, CA
---
Shermineh Zadeh, DDS
Dr. Zadeh is a leading cosmetic dentist in Encino, CA. Dr. Zadeh graduated in the top 3 percent of her class from the University of Southern California (USC) School of Dentistry with Doctor of Dental Surgery degree.
Dr. Zadeh holds both Bachelor of Science from University of California Los Angeles (UCLA) majoring in Psychobiology and Bachelor of Architecture (B. Arch.) from University of Tehran. Dr. Shermineh Zadeh and her team are thrilled to server the community and raise awareness in dental health.
Veneers Q & A
How easily do veneers break?
Similar to your strongest natural teeth, a veneer can be broken with a wrong king of pressure. Veneers are very durable and breaking, chipping or cracking your veneers are not a common occurrence.
How long do veneers usually last?
Veneers can last anywhere from 10 to 30 years.
Do you brush veneers?
You would brush veneers similar your natural tooth. Avoid foods and beverages that would likely stain your teeth. This includes things like coffee, red wine.
Can veneers pop off?
Veneers could pop off similar to your crown. If this happens call us immediately to have it fixed temporarily. We will then reevaluate your bite and order you a new veneer.
Free Consultation for Veneers in Encino, CA
We can't tell people what their options are without evaluating and seeing their teeth for ourselves.
We are happy to offer free consultations, as this is a big decision for most people. We are careful to take budget, comfort and appearance into account when explaining all the available choices and there is never any pressure to proceed, and certainly not on the day.
Why Choose Dr. Zadeh and Encino Dentistry!
Dr. Zadeh places beautiful veneers on teeth to cover misaligned, chipped, gaped, or discolored teeth to improve their shape and color, giving you the smile make over you deserve.
Free Consultation for Veneers in Encino, CA.
Schedule a visit today for veneers
If you are looking for ways to improve your smile, Encino Dentistry has worked hard to provide a range of cosmetic teeth veneers to suit all budgets and needs. Contact our dental office today to find out how our dentist in Encino can improve the look of your smile with veneers.
Contact Encino Dentistry Today
We are always happy to talk to you and provide everything you need to achieve a healthy, beautiful smile. Give us a call, and we'll completely change the way you feel about visiting the dentist!
Having a dental emergency?
Online Form:
Phone (Call or Text):
818-918-6070

Email:
Location & Map:

16133 Ventura Blvd Ste 445
Encino CA, 91436 – View Map
Read related articles about Veneers & Lumineers
Learn more about Veneers
Veneer – Wikipedia